Supply Chain Procurement Certificate (ASCM)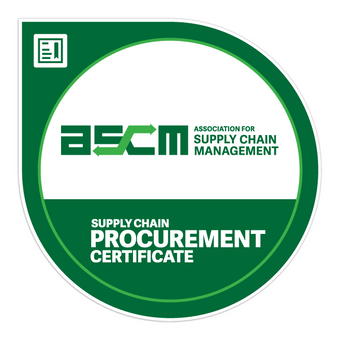 Training Description:
Earners of this badge have demonstrated knowledge of critical competencies within supply chain procurement, including sourcing strategies, supplier relationship management, contract management, sustainability, and evaluation metrics. These candidates will know and understand the key tasks required to contribute to the procurement function within an organization.
Access:
Now Enrolling
Skills:
Contract Management, Ethical Sourcing, Negotiation, Procurement, Procurement Evaluation Metrics, Purchase Order Management, Purchase Orders, Sourcing, Strategic Sourcing, Supplier Relationship Management, and Sustainability.
Earning Criteria:
Complete required ASCM Supply Chain Procurement Certificate self-study course (approximately 18-20 hours).
Score a passing grade on the corresponding exam. A passing grade for this exam is 70%, or at least 51 questions correct out of 72 questions total.