Supply Chain Warehousing Certificate (ASCM & PROLOGIS)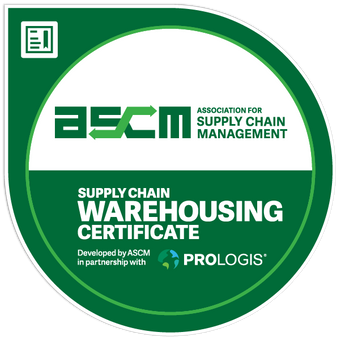 Training Description:
Earners of this badge have demonstrated knowledge of leading practices across the warehousing and distribution industry, including warehouse management, distribution inventory management and control, order management, and transportation management. These candidates will know and understand the key tasks required to contribute to the warehousing function within an organization.
Access:
Now Enrolling
Skills:
Distribution Inventory Control, Material Flow, Material Storage, Order Processing and Fulfillment, Quality Control, Shipping Operations, Supply Chain Sustainability, Transportation Management, Warehouse Management, and Workplace Safety
Earning Criteria:
Score a passing grade on the corresponding exam. A passing grade for this exam is 70%, or at least 42 questions correct out of 60 questions total.